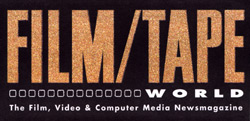 SLAPBACK: (noun) the echo of a sound as it bounces between parallel reflective walls.
Against Sync
Some say that the evolution of synchronized sound for film was the death knell for film as a creative medium. They say that once the human voice was married to the motion picture image the interplay of images was forever scarified to the word, to verbal exposition. They say that since the introduction of the "talkie", movies have emulated the narrative language of novels and plays, veering away from the evolution of a purely visual story telling. That story telling, almost from the beginning, made use of the visceral interplay between live music and dancing images, an intoxicating mix. The "silent" films were never really silent, they were accompanied by original scores played by anywhere from a lone pianist to a full orchestra. While it might be considered extreme to think that "The Jazz Singer" was the beginning of the end for film as an artistic expression, it does provoke some thought about other possibilities, about non-verbal ways in which moving images can move us.
This idea of pure visual storytelling has been teased and tested for years by independent filmmakers. Not Independent Filmmakers as in directors working for multi-million dollar companies which are now owned by multi-billion dollar companies. Not The English Patient or even Sex Lies & Videotape, but individual artists who work weird jobs at ungodly hours to fund their handmade visions. The best of these visions are hugely funny, touching, wistful, angry - universal. A great many of them incorporate some form of animation - the ultimate technique for creating your own personal world.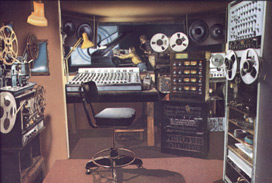 In 1979, almost 20 years ago, I found myself working on a flatbed-editing machine at 30 Berry Street, where the Film Arts Foundation had their first editing rooms. The warehouse, recently pulverized to make way for the new Giants stadium, was the creative home to several filmmakers that I knew from the S. F. Art Institute Film program. It became the location of my first recording studio, and during the ten years that I worked there I developed a deep respect and admiration for the independent filmmakers that permeated the place.

Those filmmakers built a 54-seat cinema, with raked seating and enclosed projection booth, from scratch. They ran free film screenings throughout the summer months, charging no admission to filmgoers or filmmakers. There was no jury or panel to decide if your film qualified for a screening - if the date was open and you wanted it, you had a venue. The idea was to encourage filmmakers and aspiring filmmakers. Build it and they will make films. The theater was affectionately called the No Nothing Cinema, its icon an empty circle with a line through it.

These memories were all brought back to me very powerfully several weeks ago when I attended a truly transcendent show at the Red Victorian Theater. The six-piece Sprocket Ensemble, led by composer Nik Phelps, played live to a program of animation, which included works by No Nothing filmmakers Rock Ross, Michael Rudnick and Marion Wallace. The spirit of the late No Nothing filmmaker Dean Snider was also present as his poem "Things I'd Say If I Were The Pope" was the inspiration for the Rudnick/Wallace collaboration of the same name. Also included in the show were animators Nina Paley, Jason Shiga, Drew King Joe Davis, Sara Petty, Scott Kravitz, and Jane Aaron.

This kind of show is free form flying emotion and sound/picture juxtaposition at its best. Real live musicians filling the room with a resonance that no THX/DOLBY/SDDS/SURROUND/ULTRASTEREO/SUBWOOFER contraption can come near reproducing. Period. You just can't do it. Throw several hundred thousand dollars at designing, building, and equipping a listening room - and it won't even come close. Believe me, I've done it more than once. I prize an accurate mix room, it's my daily surroundings, but mechanical reproduction can't touch live human creative energy and being in the same room with sound waves emanating from brass, wood, horse hair, cat gut, and vibrating bamboo reeds.

The vibrating reeds and brass in this case are played by Sprocket Ensemble founder and composer Nik Phelps. Phelps switches between saxophones, clarinets, oboe, English horn, French horn, and trumpet. He is usually accompanied by Carla Kihlstedt on violin, Marika Hughes on cello, Matt Small on basses, and A.C. Lewis on drums and mallet instruments. The night I saw the Ensemble Chris Sipe was on drums, Jenny Scheinman was on violin, Ward Spangler was on marimba, and Zachariah Spellman was on tuba. Phelps calls his combo "Chamber music for the 21st Century".

Nik's background includes live and studio work for artists as diverse as Lou Rawls, Wayne Newton, George Burns, Frank Zappa, and Toms Waits. His intro to composing for film came through his work with the legendary Club Foot Orchestra, which he joined in '89, just in time to work with them on their score for Fritz Lang's "Metropolis". Before Phelps' arrival, Club Foot had carved out a niche and a loyal following by performing its original scores for classic silent films like "The Cabinet of Dr. Caligari" and "Nosferatu". By the time "Metropolis" came around, Club Foot composers Richard Marriott and Gino Ribera were sharing the writing chores. "Metropolis" was the product of six composers, and the 11-piece orchestra toured with the film, performing in New York at Lincoln Center and The Knitting Factory. Since the Club Foot Orchestra is not active these days, Nik has founded the Sprocket Ensemble to continue this quirky tradition, this time with an emphasis on short animated films.

Phelps' writing for animation got off to a running start when CFO alumni Gino Ribera became the musical director for thirteen episodes of "The Twisted Tales of Felix the Cat" for CBS television, and brought the Club Foot Orchestra in to do the scoring. Again, sharing the composition duties, the group often had only days to produce the tracks for each half-hour show. In 1996 the International Animation Film Society for two songs, which he wrote for the "Felix" series, nominated Phelps for an "Annie".

Sprocket Ensemble is an ongoing experiment in artistic collaboration among musicians, animators, and filmgoers. They present new works monthly at the Minna Street Gallery.
---
Jeff Roth is the owner/operator of Focused Audio, an audio post facility specializing in long format and animation sound design. He is also a partner in One Union Recording Studios, an all-digital audio post facility specializing in sound for the advertising community.
Film/Tape World, December 1998