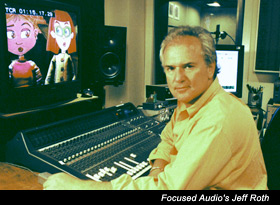 Producers at all points on the globe can hook up in real time by taking a ride on the virtual-studio express.
Focused Audio's Jeff Roth: "There is a paradigm shift toward electronic facilities. I used to have a large studio with four edit rooms...(now) I can reach out to other editors and bring them in on projects (electronically). We don't have to work concurrently in one facility; it's all about having a studio of virtual rooms."
Background
JEFF ROTH founded Focused Audio in 1979. For the next decade Focused had
studios at 30 Berry Street
, a waterfront warehouse that was home to an eclectic group of filmmakers and San Francisco Art Institute Film graduates.
Music recording and audio-post work on documentaries were the concentration in those years, including over 50 half-hour nature shows for the A&E network.
Then, in 1987, Focused was chosen by Art Clokey, the creator of
Gumby
, to execute the recording, editing, sound design and mixing of 65 half-hour shows to be syndicated by Lorimar Telepictures.
Employing digital, as well as electronic multi-track recording and editing, the procedures Roth developed during this production resulted in the design of a new facility. In 1990 Jeff supervised the construction of a four-studio facility on Natoma Street, one of the first to be designed and built specifically for electronic and digital audio editing. During the decade Focused Audio made this facility its home, audio for commercials and then sound design for animation played major roles, including two seasons of work on MTV's celebrated animation series
Liquid Television
.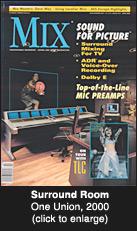 In 1994, while continuing his long-format work at the Natoma Street facility, Jeff Roth, with partners Eric Eckstein and John McGleenan, built a new studio, One Union Recording, in the heart of San Francisco's advertising agency district. One Union was a major hit from day one. During the next six years these founding partners grew One Union into a three room all-digital showpiece with surround mixing, featuring the first installation of the Euphonix S-5 digital console and other high end audio tools.
In 2000, Jeff Roth decided to take his audio pursuits in a new direction. He sold the Natoma facility, sold his interest in One Union Recording, and prepared to gear-up two new smaller studios for work on
Phantom Investigators
, a new animation series produced by Sony Pictures.
Today, under Jeff Roth's direction, Focused Audio continues to be a leader in applying the newest digital audio breakthroughs to the art of soundtrack production.
Roth has contributed to the audio post on well over 300 films, television shows, commercials, cable series, and documentaries. He brings the creative relationships he has made during his twenty years working in the Bay Area film community, and his varied experience as a location recordist, music mixer, and video producer to each project entrusted to Focused Audio. His work has been seen on HBO, ABC, CBS, MTV, WB, A&E, Lifetime and many other broadcast outlets. His clients have included Dreamworks, Lorimar, Paramount, Sony and Disney studios.
His current recording, editing and mixing room is located within the Outpost Film Center on Folsom Street in San Francisco's South-of-Market. A foley room and San Francisco's largest dubbing stage, complete with surround mixing, are available within the Center. Focused Audio also operates an audio editing and sound design suite in Sebastopol, Sonoma County.
Jeff Roth and Focused Audio engineers have been nominated for the ITS Monitor Award in three different categories. Jeff Roth has been nominated for a Golden Reel for his work with Don Johnson on the Nash Bridges television series (he was ADR recordist for the series from 1997 through 2000). He holds the degrees of Bachelor of Fine Arts in Film from the San Francisco Art Institute and a Masters in Film from San Francisco State University.