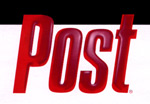 The return of Gumby
SAUSALITO, CA – After a 25-year hiatus, that perennial favorite, Gumby, has finally returned to the small screen. Ninety-nine brand new 7-minute episodes have been completed recently by Art Clokey, Gumby's originator, at his studio, here. The resulting 33 new half-hour shows are being syndicated by Lorimar Teleproductions and air currently across the country.
Viewers weaned on the original show will be relieved to learn that time has had little effect on Gumby and his four-legged cohort, Pokey. Aside from the addition of a few new characters, the stories have retained the slightly surreal appeal that set Gumby apart from his more traditionally animated rivals.
In fact, the new shows were produced much like they were 25 years ago. Clokey's company Premavision, used 17 animators, 18 cameras, over 20 artists, and the same painstaking, frame-by-frame process used in the Fifties. Only when it came to audio did 1980s technology make its mark on the new shows.
Gumby's sound was produced and mixed at Focused Audio, one of San Francisco's small but versatile audio post facilities. Relying heavily on digital technology and 24-tracks of Dolby SR, Focused provided the Gumby series with a rich, effects-laden soundtrack.
"It was amazing for me," says Clokey, "because I've been out of the loop for so long. Before, it used to be so laborious, mixing with so many machines–for every track, you needed a separate machine. Now, there's just one piece of tape with 24 tracks and it's computer controlled. From a creative point of view, it's been delightful, because there are so many more things we can control quickly and easily."
Focused Audio wasn't even originally part of the new series' production plan. Catering to San Francisco independents and corporate producers, Focused had built a solid reputation for high quality audio post production–including work on such features as Rob Nilsson's award-winning Heat and Sunlight. But Gumby was a different matter altogether.
"The Gumby episodes were originally being mixed film style, sprocketed on full-coat mag stock," says Jeff Roth, audio post production coordinator for Gumby and Focused's owner. "But with so many effects, that process wasn't working so well–it was taking too long and costing too much. Since the music was already being composed with time code and MIDI, the decision was made to come here to do the effects."
Roth continues: "With our DX7, MIDI interfaces and the 24-track, we were able to create custom effects and lay them back quickly onto coded tape. Art took to it immediately, because the process was so fast. Soon he realized that with our automated mixing and all those tracks, there just wasn't the need to cut on 35mm mag–eventually the whole project moved over here."
Roth suddenly found himself in charge of the full mix, as well as all the effects, for 11 hours of new shows--enough sound for about five features. Then, having barely finished work on the new series, the producers at Lorimar called to ask if Focused could go back and re-create the sound for the 130 original Gumby episodes as well.
"It was pretty wild around here for awhile," recalls Roth. "We worked for about eighteen months, doing the sound for all 226 episodes. That's every Gumby every made--including the very first one."
The audio production for a show like Gumby was both involved and laborious. The process began with the recording of the voices. These tracks were transferred to 35mm mag stock and sent to a track reader, which broke down the words into syllables and syllables into frames--telling animators how many frames to move a clay figure's mouth for each word.
After filming, the 35mm picture was cut and synced to the voice tracks. One-light work prints, with address track and window SMPTE, were then made on VHS and 3/4-inch video tape.
"We'd get one of the 3/4-inch videos and all the 1/4-inch edits of the voice tapes," explains Roth. "We'd then begin to work on the effects and dialogue editing. Meanwhile, Jerry Gerber, the composer for Gumby, would get a VHS version of the edit and start to write the music. "Jerry used a two-track Fostex with center strip time code, as well as a synchronizer and MIDI interface. He'd compose to picture and SMPTE, using the VHS dubs. So when he brought his music tapes, we'd all be working from exactly the same numbers."
At Focused, every episode's window dub was "spotted"--each effect was logged and a determination was made as to how it would be created. Initially, the shows contained about 50 effects, but as this number grew to 150, spotting often took an entire day per episode.
That amount of time was due to the fact that, according to Clokey, the sound effects for Gumby are somewhat different than those for a more traditional, Warner Brothers-type cartoon.
"All the effects needed to sound realistic," says Clokey, "because we want to give kids the illusion of reality. We want to bring their three-dimensional fantasy world to life as much as possible."
To meet with Clokey's vision, Focused employed a variety of methods for creating realistic-sounding effects. "We started with a full CD-based effects library," says Roth, "and we also had about 140 disks of custom Roland effects as well. But frequently, this wasn't enough--we were always creating new sounds. James Allen (Effects Supervisor) started the project by himself and ended up with an effects staff of six.
Often for a new sound, an effects assistant would go into the studio with a microphone and the Roland sampler. After sampling, each sound was truncated or modified via the Roland's editing capabilities, and then stored on disk. Roth then layed each effect track onto an Otari MX-80 24-track recorder, keeping eight to 10 tracks available solely for effects. The entire effects process, creation and recording, took about 14 hours per episode. Roth then laid in the dialogue and performed a pre-mix for Clokey's review.
"Art would always say to treat the effects like dialogue," says Roth. "So I gave him the chance to listen to them before we did the real mix--giving him time to make changes. When he didn't like our effects, he'd often show up at the mix with real props--like real swords or skateboards--which we'd record and pop in the segment that day. And we'd still get the mix out on time, something that would have been impossible to do with 35mm full coat."
"When we did the original effects work for Gumby in the Fifties an Sixties," reminisces Clokey, "we'd have to get our sounds from 78 rpm disks. We'd push the records around by hand and actually use needle-drops for the effects. Today you have much higher fidelity an much greater control. You don't have to work with all that clumsy machinery--the projectors, dubbers and recorders for each track. That means there's more time for creative choices and alternatives for appropriate effects."
After effects were given primary approvals, Roth put together an episode's broadcast mix. He'd even out the dialogue, bring up effects levels and bring in the music--ensuring that all three elements could be heard throughout the show.
"Around three in the afternoon," recalls Roth, "Jerry (Gerber, Gumby series composer) and Art would come by and I'd play for them what I had. As time went on, this became closer and closer to what they were looking for. Eventually, we got to the point where we could mix an episode in under an hour."
The fully mixed masters would have one track of mixed effects, one track of dialogue and two tracks of stereo music--one for each channel. The tapes would be transferred to 35mm mag and sent to California Video Center in Los Angeles (Lorimar's in-house post production facility), where they would be mixed for final video release.
One impressive aspect of the new Gumby series is the absence of noise in the soundtrack. Compared to the original film-based episodes, the lack of hisses, pops and crackles is really remarkable.
"About a third of the way through," relates Roth, "we brought in Dolby SR to see if Art and Jay Weinman [post production supervisor at Lorimar], would appreciate the difference. We all went crazy with it--there was no hiss whatsoever--no colorization of the sound. It was digital quality with none of digital's anomalies."
"The Dolby SR was amazing," concurs Clokey. "I really couldn't believe it. There was absolute silence in the background. It was wonderful to hear on TV, a brand new experience compared to the old tracks."
Roth soon installed 24 tracks of Dolby SR at Focused and persuaded the voice recording and mag transfer facilities to do the same. Finally, California Video Center also installed four tracks of SR to keep the process intact.
"We really got the best possible sound quality," says Roth. "None of the effects came off a tape source. They came directly from mic to picture or from the Roland or the CD player. We laid down every dialogue line from the original 1/4"-inch on the 24 track with SR for the cleanest version possible. And although Jerry Gerber's music wasn't SR encoded, he was sequencing everything, so his music was clean as it went onto his 2-track."
After Roth and company completed the 99 new Gumby episodes, the 99 new Gumby episodes, Lorimar then decided to re-mix the sound for all the original shows as well. Focused had been allotted about 15 months for the new series, but these 32 half-hour episodes had to be turned around in just under four months.
Adding to the time constraints, the shows had already been assembled on 1-inch tape as air masters--complete with holes for commercials. As a result, the entire audio production process needed to be revamped and sped up. The answer was more people and a creative use of technology: "We employed five dialogue cutters and four effects people working round the clock," says Roth. "First, we replaced the dialogue. We made an audio cassette dub of each character's lines--a cassette for Gumby, one for Pokey."
"When the actors came in, we'd cue up the cassette player so that they could hear the lines. They'd do a few takes which we'd record on SR-encoded 1/4-inch tape. We'd take these tapes and load each line of dialogue in a Hybrid Arts ADAP I. We'd record each line into RAM, truncate it and store it on the ADAP's hard disk."
The video time code numbers would then be loaded into the ADAP and a cue list was created, holding sound files of both the edit points and the sampled line of dialogue. Using a Fostex 16-track with time code numbers as triggers, Roth was able to record the ADAP's dialogue, already cut to code, before it reached the final mix.
The older shows also used the music written for the new episodes.
"We didn't want the [two] series to appear too different," says Clokey. "So if we had the same music, it would help make them sound more continuous or homogenous. The music on the original shows was pretty dated. Music editor Larry Oppenheimer created a Macintosh database, which logged all the music cues Jerry Gerber had written for the new series," says Roth.
"So when we spotted the show, Larry could search the database, using these four qualifiers, to come up with a list of possible music cues. Although he put a lot of time into this, it was all worthwhile for the next three months of work--it saved an incredible amount of time. He could even write reports detailing which pieces were used and what the royalty payments would be."
With these improved methods, Roth and Clokey were usually able to mix one show a day--30 minutes of broadcast, stereo mix. "Even with all the time and technology," says Roth, "we came in under what was budgeted for doing the entire series on 35mm mag. And we were still able to greatly expand on the creative end--we tripled the number of effects in each segment."
Post Magazine, 1989