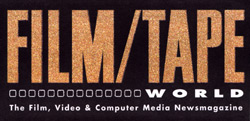 SLAPBACK: (noun) the echo of a sound as it bounces between parallel reflective walls.
COMPOSERS SING OUT
Most audio post mixers come from a musical background. Mutual reminiscing with my contemporaries, not scientific polling, leads me to make this categorical statement. I would guess the same is true for Sound Designers. As a mixer/sound designer that is not a musician, but has come from a film background, this fact has sometimes made me feel like the odd man out.
While not a player, my sympathies and leanings have always been towards the musician's world. My first recording studio was a music studio. In that funky space I was blessed with recording and witnessing some great musical moments by jazz artists Joe Henderson, Bobby McFerrin, John Abercrombie, Eddie Marshal, George Cables, and Babatundi Olatunji. For a short while I was a licensed talent agent, representing various West African artists, and later a road manager for Reggae artists LKJ, Culture, and Mutabaruka. Fun and exciting stuff.
The work of musicians composing for film, radio, and television is a more complicated matter, it is life at the crossroads of art and commerce. Hired to perform a specific task, to enhance a story or sell a product, there are many rivers to cross on the way to the successful completion of an assignment. How does the composer zero in on what is in a client's head? Is there one or more decision-maker to please? How do the various egos involved in a production mesh? What can be done about "demo love" - the attachment a client has developed to the "temp" music he has been cutting to?
The composers will tell you - good relationships, people skills, and careful planning are the rules for proceeding with success.
JD Reilly composes for "Life with Loopy", an animated series produced by Wholesome Products for Nickelodeon. Working with series creator Stephen Holman for two seasons now they have developed a unique way to work together. JD: "Stephen comes in with an idea of what he wants, we go through the picture together with a hand held tape recorder, and he sings what he wants. Although he has a limited sense of pitch, he knows what he wants and sings it including where effects will be. On the rare occasion when he doesn't know what he wants, he will say "see what you can come up with', then he will listen to my idea three or four times to try and see if it works, before forming an opinion.
Reilly acknowledges that this is an ideal working relationship. When sitting down with a new client, He will not let them get away with "I don't know what I want, you try something". This, he says, is the kiss of death, he calls it "spelunking" - the act of entering a dark cave. "It's very flattering that they say you come highly recommended and that they want to leave it in your hands, but the fact is that they do have an idea, even if they don't know it. They have to think about it more. I ask them to go home and think about it more. Play different music you have to the picture - come back and play me something, name me some bands or songs, give me some more direction." No spelunking allowed.
Greg Jones has composed primarily for corporate media producers such as The Kenwood Group, Pederson & Associates, and McDougall Creative. But things are changing for Greg in mysterious ways. His demo CD was being played at a party, was heard by the right person at the right time, and has lead to his current work on a Paramount feature, "The General's Daughter". The John Travolta film comes out in June.
Greg has found that the best producers lay a solid foundation for smooth interaction between the creative talent and the clients. They do this early on by giving their client some background about the individuals they have brought onto the project, and by communicating their own sense of confidence in the abilities of these individuals. Likewise, they take the time to relate positive experiences they've had with the client to the creative team. This kind of ground work can eliminate unnecessary doubts and jockeying for position or control, and can help create a team feeling from the start of a project. Creative teamwork requires a certain faith in the abilities of your partners, and nothing can kill that faith faster than a bad start.
David Della Santa composes for commercials. His television work includes spots for the Fox Network produced by Foote Cone & Belding, ESPN spots for Wieden and Kennedy, Adidas for Leagas Delaney, and Izusu for Goodby, Silverstein & Partners. How does he get an idea of what direction to go in on a spot? He listens, not for specifics, but for the feeling the client is going for. As David puts it: "They don't know what they like, but they know what they don't like." If they have no idea of what they want, he'll play cuts from his demo CD, or any CD, up against picture, to get an idea of what works, and what doesn't work. "Do they like the way it makes them feel? How does it make them feel? Is it the structure of it? The instrumentation? Then I sculpt my piece to have those elements, but be scored to the film. Sometimes I ask them for songs or bands that might work, so we're hearing the same thing."
How does David deal with "demo love"? He, like Greg Jones, provides clients with a demo CD. When he works with Doug Walker at Filmcore, Doug pulls "temp" music off David's CD . Although some of that music is owned by previous clients, when it comes time to writing something new, David is at least emulating his own work. Better yet, some clients have actually had David score their music before editing has begun. Mark Decena, of Asylum, came up with the idea of doing a Gospel vocal over a trip-hop music track for a Levis corporate piece. The images were laid in over the existing finished music, eliminating the need for "temp" music altogether. Of course this requires thinking of the musical component for a project very early on.
One of the frustrations for a composer working in the ad world has to do with how difficult it is to have direct contact with the actual decision makers. Working for an agency you may be trying to please the Director of a spot, the Producer, the Writer, the Creative Director, or the Executive Director of the Agency. These people are your client, but they are not the client. According to Blaise Smith and Mark Harrison, who are Hank Smith Music, not having early contact with the end user - the advertiser, can result in much needless spinning of wheels, especially if the advertiser has a specific musical concept to begin with. Musical ideas are hard for non-musicians to communicate to begin with, putting additional layers of human interpretation between the composer and the client doesn't help. From client to Creative Director to Producer to Composer, whose musical tastes are being satisfied? "It is a rare occasion that we ever meet the client" states Mark Harrison. "It has never happened that we have had a meeting here with the Producer and their client to discuss the music early on" adds Blaise. Perhaps this is an area that Agency's can look at for evolving better creative relationships. Hank Smith Music can be heard on television campaigns for "Sprint" (J. Walter Thompson), the California Lottery (Grey LA.), and Disney Interactive ads for "A Bug's Life" and "Simba" (Foote, Cone & Belding).
---
Jeff Roth is the owner/operator of Focused Audio, an audio post facility specializing in long format and animation sound design. He is also the ADR recordist for "Nash Bridges" and a partner in One Union Recording Studios, an all digital audio post facility specializing in sound for the advertising community.