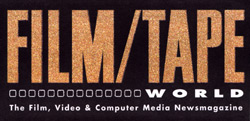 Digital Takes Center Stage at Focused Audio
Three years and one downtown ballpark plan ago, Focused Audio owner Jeff Roth reluctantly decided to move his audio postproduction studio out of the China Basin area. The Berry Street location was always interesting for clients to visit. Just across the way from One Pass (Editel), it was also the home of the No Nothing Cinema (it still is) and one very large and friendly three-legged dog (Roth's late black Labrador/Great Dane cross, Ali). But with CalTrans owning the block and multiple Art Agnos attempts to put a stadium for the Giants there, Roth began to look elsewhere for a more stable location.
Roth purchased a building in the belly of South of Market on Natoma Street. He began from square one, calling in studio design ace Carl Yanchar from Los Angeles to map out a floor, wall and ceiling plan that would not only be state of the art but allow for growth.
Yanchar of Lakeside Associates designed the studio A mix room to Dolby Surround and Lucasfilm THX specifications. It's the hangout of Focused Audio's crown jewel: an AMS Audiofile 16 Plus digital recording workstation.
Interested in automated audio sync-to-picture from early on, Roth began using BTX/Cipher Digital equipment back in 1979. Around 1985, Focused Audio became one of the first beta sights for the Kelly Quan SC-610 software, an early, powerful multitasking A/V control software package for the IBM-PC. Roth designed custom-control macros for SC-601 called UserKeys. Within a few years, studios around the country were using both the Kelly Quan SC-610 software and UserKeys. "We've always reinvested in the technology," says Roth.
This evolution led Roth to the Audiofile—a little kiosk of cutting-edge digital recording technology on wheels, kind of a silicon-and-hard-disk version of the Horta rock creature from that old "Star Trek" episode. Obscure analogies aside, the AMS is quite the nonlinear powerhouse, with more than four hours of recording storage for its 16 channels. At the helm of the AMS is lead engineer Jay Shilliday. Until the infamous fire, Shilliday was the senior audio engineer at the late Editel/S.F. He was already familiar with the AMS, having worked on one at both Editel and Streeterville Studios in Chicago.
Overall, the facility consists of four control rooms, three recording spaces and a central machine room, with all rooms interconnected by audio, video, MIDI and SMPTE time-code feeds (wiring design by Dennis Rice). Local area network (LAN) lines await the option of future levels of PC interconnectivity.
After the facility was completed a year ago, Roth decided to sublease three of the studios. Interactive Audio makes its home in studios C and D. The team of Gary Levenberg, JD Reilly and Nic tenBroek have considerable compositional and performing experience with well-known recording artists, in addition to industrial and commercial film and broadcast experience.
In studio B, Jeff Gold has created a 3-D audio mixing lab, using the Macintosh and Digidesign's Pro Tools to interface with his own binaural recording hardware and software (3-D audio is also an option for any of Focused Audio's clients).
Even with this diverse and talented bunch of guys, the Audiofile still reigns as the true showstopper. It can control external video and audio devices while concurrently recording its on-board digital audio tracks. It can also read CMX edit lists and control machines with those lists as well.
"Unlike tape, there's no rewind time," Shilliday says. "It's instantaneous. It's more flexible for bouncing racks. You just reassign it—there's no need to rerecord the track. As a result, my clients spend one-third of the time [it used to take] getting their mix, which gives them more time for the creative process."

Traditionally, tape-based audio recording for film was a laborious process if you wanted to get really tight edits. Cutting and splicing the tape with a razor blade was the accepted method of getting very rapid sound and effect transitions. If you made a mistake you risked ruining the recording. The AMS takes that razor blade metaphor and applies it to a display screen. The user sees a representation of up to 16 channels at once. Any or all of the channels may be cut and spliced nondestructively—if you make a mistake, you simply "undo" it. This is in addition to the option of automated cross-fades (down to 2 milliseconds). A 40-input Sony/MCI console serves to route channels to the Audiofile or to an Otari MTR-90 24-track machine (all channels with Dolby SR) in the machine room.
Studio A also gets its share of compliments for efficient design integration. Roth explains, "The room EQs for the front monitors are digitally controlled analog one-third octave equalizers. Say the guy from Dolby comes in and tunes the room flat. We then store that as a setting. Then he sets the room for the X curve for doing Dolby mixes, which is going to roll of a certain amount of decibels per octave in the high end to replicate what the transfer to optical negative [motion picture film] is going to do. So as you're mixing, you are making up for the lack of high end in film. If someone was to come in to mix a CD we could automatically set the room flat. The room is flexible to be tuned at the press of a button." In addition, all four Foley pits in studio A (and the one in B) have removable trays, so textures can be changed painlessly.
"Along with Carl Yanchar, I tried to make the facility as flexible as possible," Roth says. "The basic facility design of the four satellite rooms—interconnected to a central machine room—really came from the experience of working on a hectic schedule of the recent "Gumby" episodic TV series. What I saw then, which would also hold true for features, was that concurrently you could have a room where you could be doing dialogue and a room where you could be doing music and a room where you could be doing effects and [have them be] dedicated rooms. You could then take all that digital information and bus it around so that everybody could have access to it. With one machine room, one Audiofile and one analog 24-track, and Digidesign Pro Tools and Sound Tools, everyone has access to a 24-track. You don't have to break the stuff down and drag it around the studio."
Guiding the client through the paralysis of "option overload" is the human factor in the equation. "We assume they want the most efficient and cost-effective output they can get," Roth says. "For instance, there was a client who was originally booked for studio A, but he ended up working with Gary [Levenberg] in Studio C because A offered way more than he needed. Perhaps in a year he'll have a job that will need the features of the room, but for right now, it's better for my business to sub-book the time with Gary. Otherwise, it's just overkill. The challenge is to fit the technology and the room to the client's budget and educate the client as to the best way to work."
Judging from the ad agencies Focused Audio has worked with of late—Saatchi & Saatchi, Ketchum and Hal Riney & Partners—the word is getting out that Focused is a serious choice for audio post. In addition to the agency work, the company has completed work on the first Gumby feature film (as yet unreleased), programs for cable (A&E, HBO and Showtime), PBS documentaries and a series of interactive laserdiscs for National Geographic (produced by Colossal Pictures) called "Planetary Manager."
Film/Tape World, February 1992